+3
thesuperiormichaelcera
deolio
travisroush
7 posters
I've been wanting to document my progress with my Corona and shit for a while now but y'all know forums have kinda gone extinct unfortunately. Now that we got the forum back up & running, I guess, I'll get to it! But first, a little history of former shitboxes!
This was my first S-chassis, a single cammer on tein spring/kyb shocks with a welded diff.  IIRC, I got it around 2009 but I didn't really start drifting yet. Just creeped around parking lots learning to do donuts and figure 8's like a ricey motherfucker. Yes, those are 280ZX wheels.  Yes, they're 14"s.  No, I don't know what the fuck I was thinking.
Now, this thing was what really ruined/saved my life. Got this one in like 2011 with the intention of finally getting into drifting, something I had always wanted to do but previously had only experienced in gran turismo games. It's hilarious to look back now and recall my initial plan, or so I thought, was to buy suspension first, then I was going to swap in some V8. My plans quickly changed as I actually started driving it and realized that the stock dual-cam KA was plenty of power with just coilovers and a weldy. Started drifting with a bunch of friends at local spots and we all progressed pretty quick it seems like. Then came first time up to the local mountains, and from there it was all downhill, er uphill, from there on out. I became a full-on drift addict after getting the chance to watch and drive with the better locals of the time. At the height of those days we were out drifting all night three to four nights a week and always ready for any rain forecasts that came up at moments notice. So carefree, so much freedom, many drift.
Throughout those nights drifting although having some of the best times with friends, the car progressively got worse and worse.  This was my first full track at Thunderhill, I think it was GDS 5 or 6?  By this time I, stupidly, put this ragtag silvia front together (kind of) and was still running stock oem 15" spares even with godforsaken fugly 527 XXR in the front.  I kept it mostly stock, just a catback exhaust and ksport coilovers at this point.
Summer Jam 2012, went ka-t, made a stupid mistake hooking up boost line which led to running the turbo wastegate essentially max psi.  Blew two turbos, spent most of Saturday (practice) driving to Sacramento and back for another turbo, then spent that night swapping the turbo.  Ran into clocking issues and had to take it to a shop at the track to borrow some tools to get it corrected and back on the car early the next morning.  Completely missed all of Sunday practice, qualified somehow, ended up getting DNF after my first matchup with Keith Gevas despite getting a OMT by judges.  Turbo was once again toast, oil blowing out the exhaust, and I was DNF for leaking too much oil on the start line.  Was still a cool experience to compete and drive Sonoma summer jam course.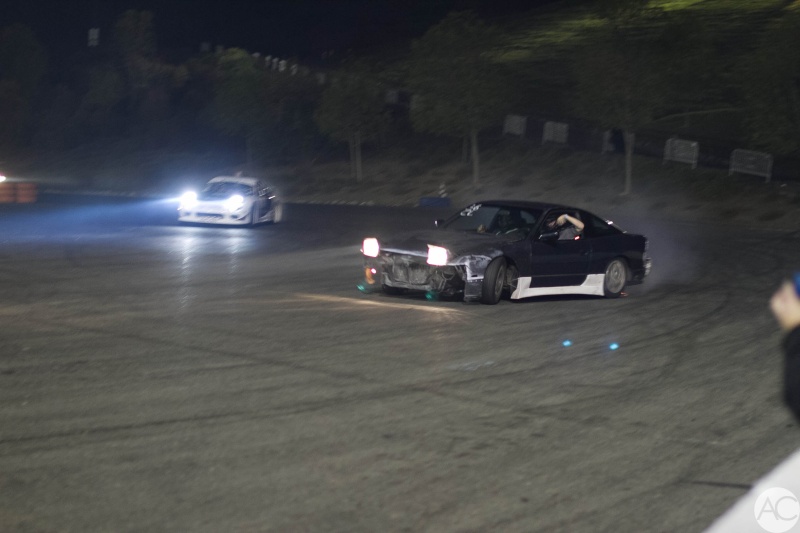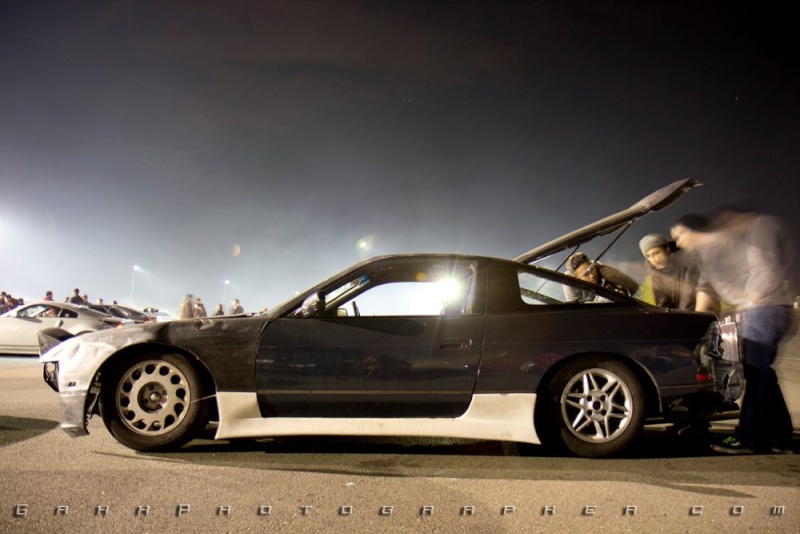 After Summer Jam, I bought another dual cam off a friend, slapped it in and got the car back up.  At Meihan 2012?, Sonoma, this would be the beginning of the end for this chassis.  By the end of the night my rear quarter panels were done and looked even worse than ever.  Motor strong as hell though, Mrs. Jones, aka homemade port/polish, dc sport mani, buddy club exhaust, hot cam swap.  For a dual cam that motor ripped!
Then came this dumbass shit.  3rd gear up an offramp less than a mile from home I bashed her real good.  Towed it home to assess but strut towers were pushed back and front frame tweaked, I was already about done dealing with the car at this point but this became the nail in the coffin.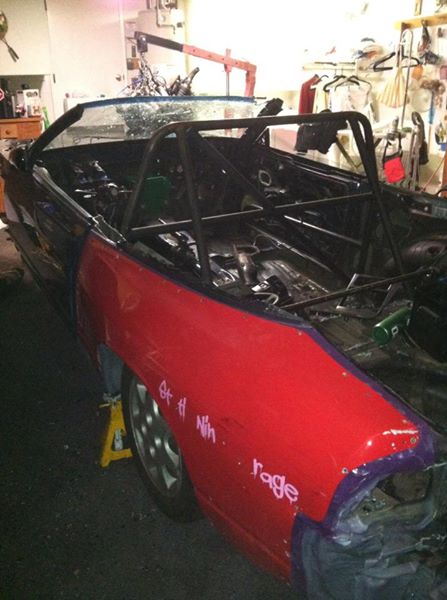 Ransacked every last bolt and part on the chassis, literally.  Cut the roof off to cut out my cage, then cut the chassis in half and scrapped it.  Parted out just about everything to fund a new car, how sad.
Then came this gem, 87 gt-s.  I decided it was time to change it up and try something new.  I had been eyeing lots of old Toyotas, and really wanted to get into an AE86. Welcome to rolla life.  In about a months time I swapped out the open rear end for a welded gt-s rear end to get ready for the Limitless Cats drift event in 2013 it must have been.  In that short span of time before the event, I worked my ass off to get the car in solid condition for full track, and even got a chance to drift it during a few rainy weeks to get a feel for the car.  I was confident I would be able to adapt to the car and have some fun at Thill with my buddies.  One area I had overlooked in the rush was the sketchy steering setup (a depowered, looped p/s rack) that I later figured out didn't even have fluid in the loop so it would bind at speed and in-drift.  Anyways..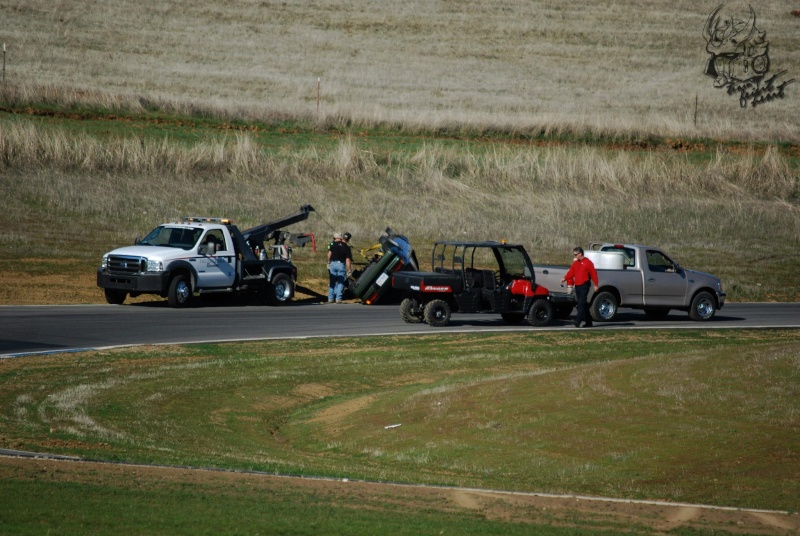 Turn 10 happened.  Once again, time to part out.  Every last bolt scavenged and the shell sold off to PNP.  Even though this car was shortlived it was a turning point for me and what I wanted in a car.  I became more interested in the style and presentation of cars rather than just throwing together a bunch of go-drift parts and smashing shit without ever improving the car.  Still, this new determination to make something, nicer, wouldn't happen for another few cars really.  
Picked up this 91 325is off a friend with part of the money I scrounged out of the gt-s partout. Mostly picked this one up because I was itching to drift and didn't care what it looked like. Never really did a thing to this car, bolted up my Recaro and went at it.  Had a welded 4.1 r&p (with this getrag trans compare this ratio to like, a 4.7 or even 4.9 in ae86 land), bilstein and ground control sleeve/plates, eibach 16k/14k.  Solid motor mounts, diff mounts, trans mount.  Ran a few events in this car and had a blast but wasn't really feeling the body style nor the pre-existing quarter panel damage from my buddies' deer encounter.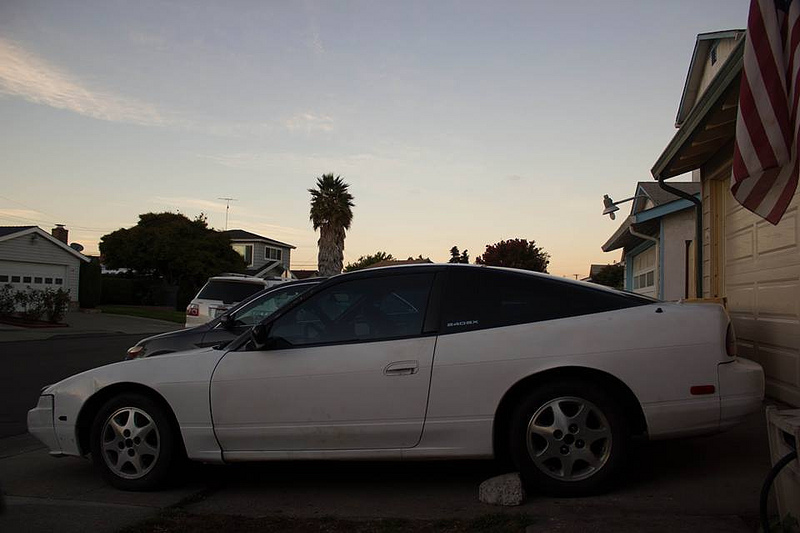 Then came this poopsicle of a mistake. Had a vision, well still kinda do but on the backburner, of a new s-chassis build. Thought I had the patience to turn this chassis around and figure out all the electrical/motor gremlins. Long story short, chassis itself wasn't ever worth the time, ended up getting the motor mostly patched up and solid but at that time I was short on money so it had to go as one unit. I should have kept this motor.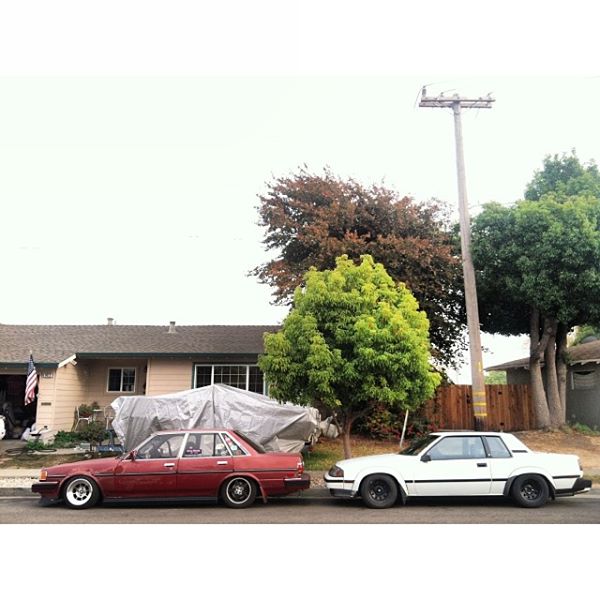 (that's jrdori's old x7 tampon) Found this 85 Celica gt-s coupe on CL for $800 in Sacramento, it was missing 2nd gear and needed a tune-up but the body and interior were immaculate so I caved and made the drive to check it out.  It was exactly as advertised, and it made it back to the bay area with no issue.  Swapping in a new w58, alone (terrible idea), I dropped the old trans on my hand in the driveway pulling it off and still have a cool little scar on my finger.  Hey, it's the little things hehe.  Gave the engine some tlc, and was actually planning on slapping on some coils, an lsd, and some wheels to start drifting again when I found something that really caught my interest on CL.  Yes, once again..
Finally we get to my current car, and believe me there were a bunch of in-between cars that I left out of this!
81 Corona - 1JZ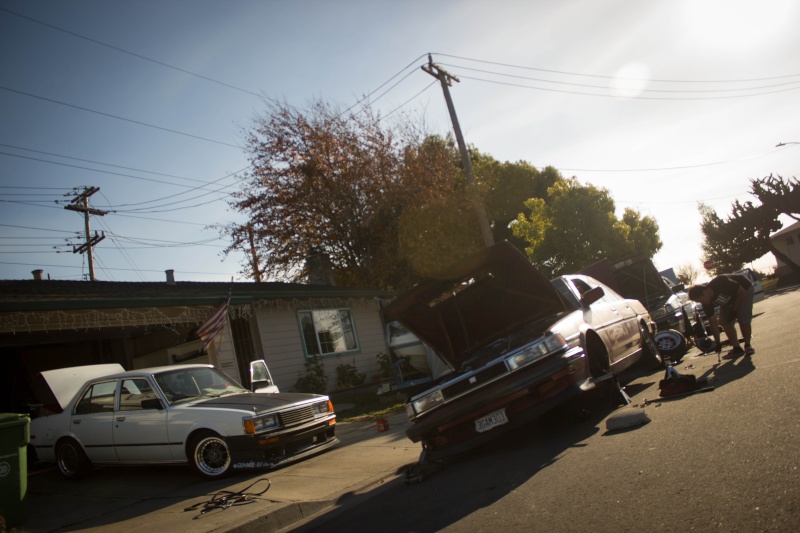 I met up with the owner in San Jose to check it out and I remember being super skeptical of the trade, I thought I had a plan in mind for the Celica now and finally had a clean slate to build on. Test driving it in a parking garage the steering felt like the hardest thing ever, and the gas pedal felt like a brick.  I could tell from putting it around that the suspension was blown, the engine and wiring needed attention, and I knew that if I were to trade it was going to be a big time and money commitment. Despite the obvious cons, and the fact that this would also have to double as my daily driver, I ended up trading the Celica plus cash for it. This is the closest photo to when I first got it as I could find.  When I first got it though, the hood was rattle canned with a rising sun design (I quickly rattled black over it) and the front bumper was covered in random stickers.  It had an itty bitty grant steering wheel with two broken replica bride reclineables and sat on a set of XXRs.
The XXRs had to go, so temporarily I put on some Supras & old Enkei I had laying around.  During this time I was working at an auto-shop in Union City and had access to tools and equipment so a lot of the crucial mechanical stuff I got done quick and with the help of my co-workers.  This pic was on my lunch break at my go-to sandwich spot.  My buddy had just hooked me up with an old pacesetter muffler off of his 280zx as the corona came with no exhaust/muffler.  I was super stoked to have finally gotten a 4-door Toyota, I couldn't wait to get it ready to tandem with jr's x7.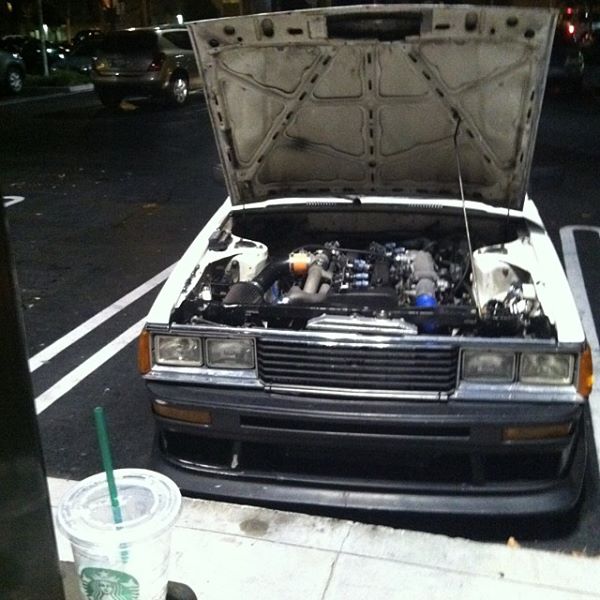 Here we are broken down in SF, this about sums up my early experiences with the engine issues and shit I had to figure out.  Not too long after, I realized the fuel pump was vapor locking and it was basically dead from the abuse.  Whoever swapped in the JZ had mounted the external fuel pump IN the engine bay just hanging around next to the hot motor!  I remedied this later on, with a walbro 255 relocated to just outside the fuel tank.  Too bad the tank isn't baffled nor does it allow for an in-tank since the original motor (22r) was carb'd.  Soon after I figured out the vapor lock problem I was also having issues with breakup in boost.  That ended up being hairline cracks in just about all of my 6 coilpacks, but luckily I was able to salvage them and fix the issue with just some epoxy and shrink tubing.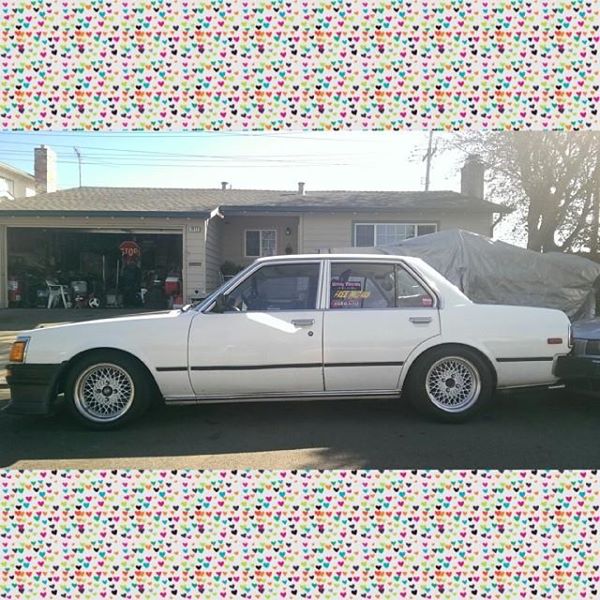 Got some riken mesh from achord aka djoshua and threw in my old Recaro I had since the blue s13.  At least I had one decent seat haha!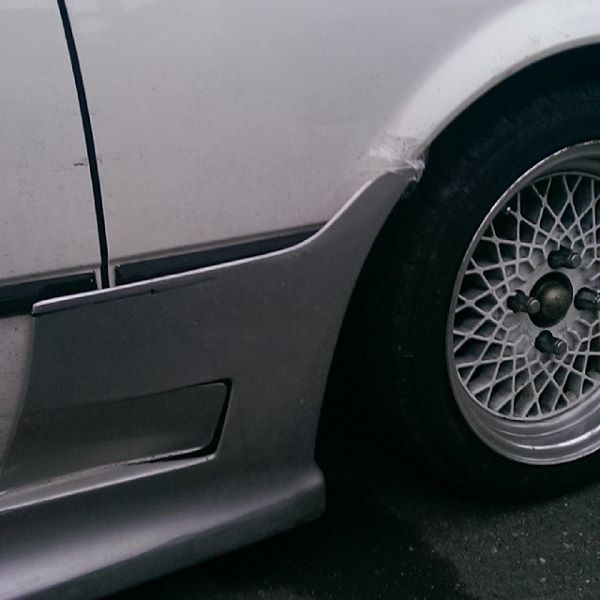 I wanted aero, but obviously they don't make any for 30+ year old sedans so once again djosh came thru with some Blitz mkiv supra skirts he had, and eventually I was able to trim them to fit.  This photo was mock up before cutting.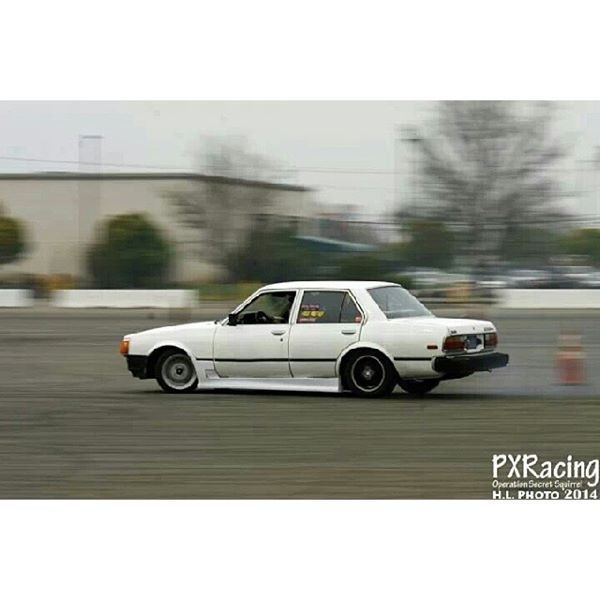 I hadn't drifted in way too long and the first Club Drift came up so I had to make it out.  Even though the car looked like saggy tits I somehow passed under the radar lol.  Didn't get but maybe one or two runs out of the whole day because I didn't realize (or check) that all the clamps on my intercooler piping were standard hose clamps (not t-bolts).  Even shutting my boost controller and running stock turbo psi I couldn't get half a lap without blowing a coupler, not to mention the car was running hot.  Now would be a good time to tell you the engine is being cooled by a eBay Civic radiator and electric fan, yeah, not good.  But hey, the car sounded great, just needed more work.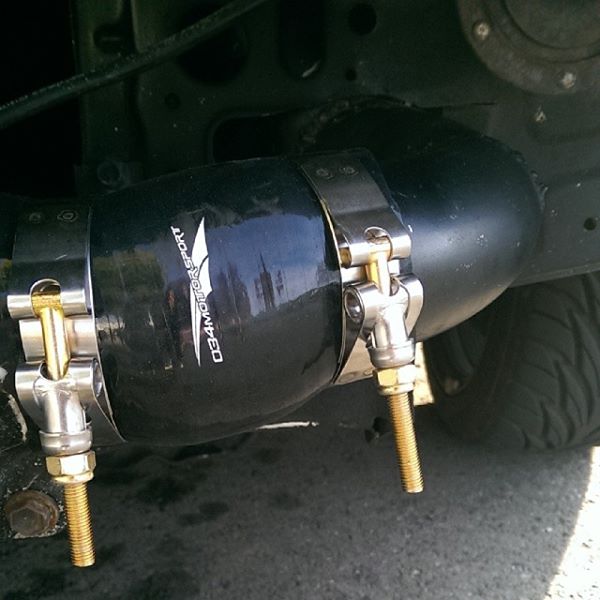 Buddy working at 034 motorsport in Fremont hooked me up with some legit couplers and I bought some t-bolt clamps.
Mocked up this rear bump I got from royden, but I passed it along as didn't think I could make it work.  Now I kind of wish I kept it.  Also was testing out jr's shakotans.
Luckily the guy who originally put the JZ in had the sense to upgrade the rear end with an mki supra axle, but unfortunately it was still just a welded.  After breaking and re-welding the diff twice within the same month I decided to pull it all out one more time but replace it with a rebuild oem LSD.  Jr helped me out getting the diff out  the junkyard HAHA.  Replaced all bearings, seals, and gaskets and had The Rear End Shop in Livermore set the diff up in the carrier along with Weir lsd upgrade kit.  Result was awesome, rear end locks like no other now!
Still very much a work-in-progress, one night at tapex uc after I think I had just gotten the front pair of wheels (bbomb).
Parts started to stack up in my room
Finally got around to welding the coilovers, thanks to my buddy german, and the x7 cressida brake/suspension conversion was ready to go!
This is the resulting angle gain, but even more importantly this meant no more doo doo ride.  The suspension that came with the car was blown oem shocks with cut springs and cracked spring perches.  Sketchiest shit I ever drove on.  It felt like a whole new car after alignment!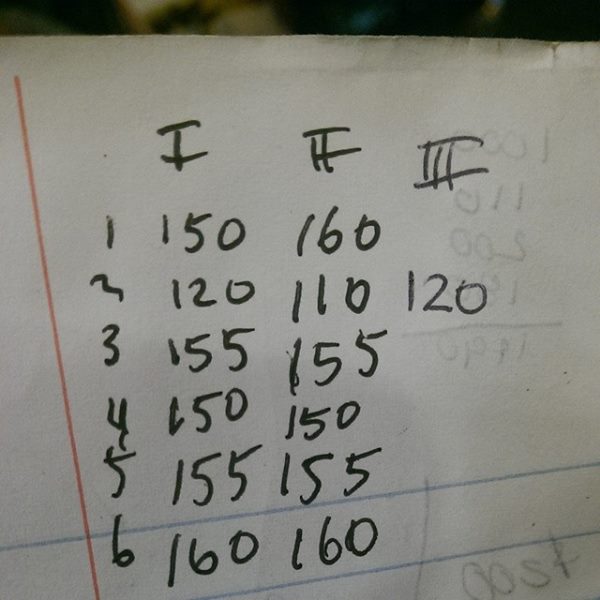 The day I thought I was fucked.  Those are compression readings which yeah, basically show cyl 2 is down for the count.  BUT, luckily...I somehow figured out through the discovery of a ecu issue that cyl 2 was actually okay but it wasn't showing compression due to the oil in rings being washed out from the amount of gas being dumped on #2 cyl.  What happened was the capacitors in the ecu were leaking acid onto the circuit board and this by chance had started to affect the #2 fuel injector, allowing it to be essentially stuck full spray all the time.  So I figured out why I was running rich, that my ecu was bad, AND that these readings weren't the end of the road.  I redid the compression test and the numbers were fine, PHEW.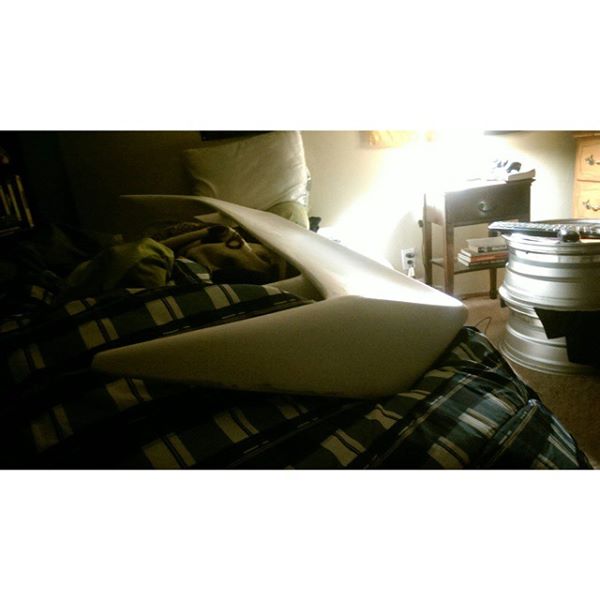 Not sure why, but I bought this.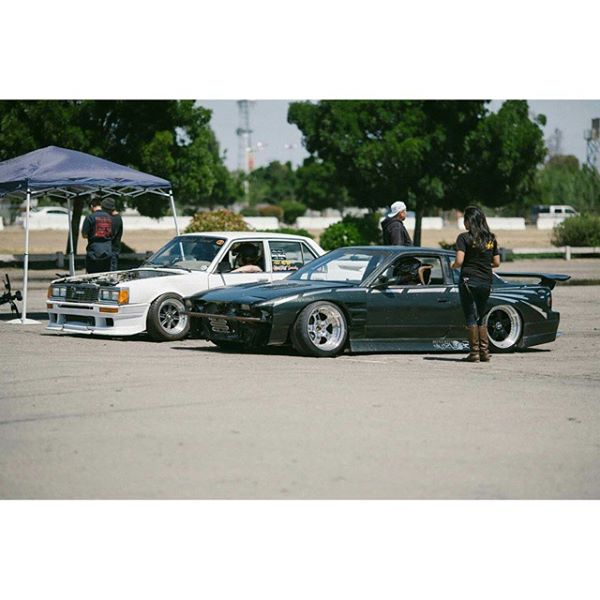 It had been a good long time of building this car up and derek FINALLY got his shit running and ready for an event so I absolutely had to make it out for this Club Drift, 4 or 5?  Can't remember, but we towed to the fairgrounds nice and early and we had a blast all day, besides a few small issues with his battery and powerband.  It was cool to finally see his hard work come to fruition and see that badass car get dirty.  I know he got a ton of shit over those 4 years for not having the car running but it really showed to me his determination to not only make it run but also look rad as shit too.
Can't forget all the sources of inspiration along the way, which definitely includes these four: Derek Z., Jonathan Sanchez, Kenny, and Roy from left to right at the Slamburglars BBQ San Mateo.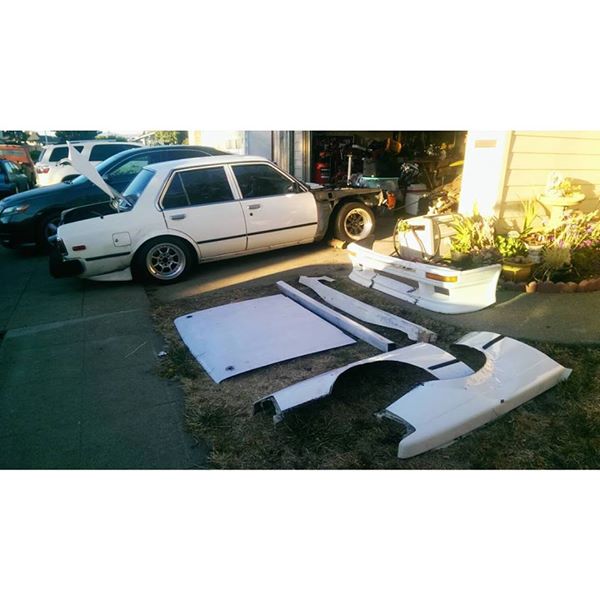 My fenders had buckled really bad at the last event, but finding parts for 79-82 corona, not so simple.  Took a while waiting for one to pop up at PNP, but finally one did, all the way down in Monterey so I made the trek.  Also, for some reason Toyota decided it would be a great idea to glue-weld the shit outta the fenders to the body frame so removing them the first time is major PITAS.  Also, to remove fenders the hood and wiper valence must come off as well.  So what started with my memory of ease with S-chassis fenders turned into an all-day strip the front end and reassemble deal haha.  
While at it with the new fenders, I figured I can't afford to buckle any more so I cut and bracketed them up hibino style which also accommodated my new extended lcas (off of x6 cressida).  I was pretty happy with the result, although I wish the new fenders were a little cleaner, but hey, I'm just thankful I found any at all!
Last edited by travisroush on Wed Nov 18, 2015 10:02 pm; edited 11 times in total

travisroush




Posts

: 73


Join date

: 2015-11-16


Location

: east bay



dang i remember that blue hatch. it made me cry hahaha
travisroush wrote:
THIS. FUCKING. CAR. hahahaha will live forever in infamy

thesuperiormichaelcera




Posts

: 36


Join date

: 2015-11-16


Location

: Da Streetz



Many awesome memories of the blue hatch.
so nostalgic, thanks albert

travisroush




Posts

: 73


Join date

: 2015-11-16


Location

: east bay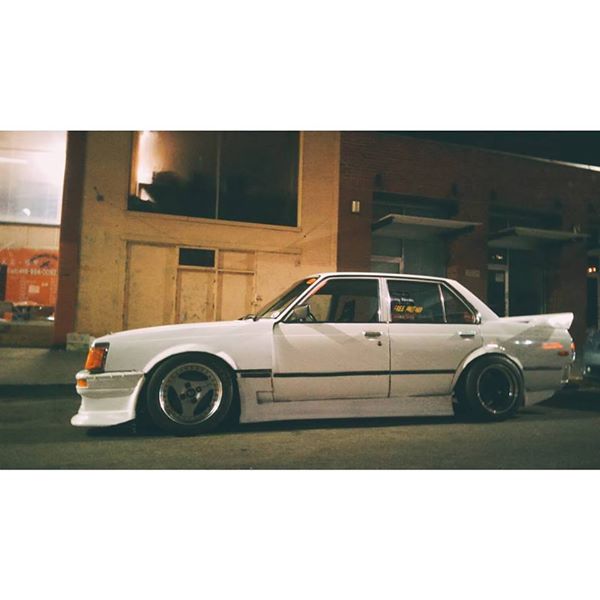 After 86 night at Toyota One we went downtown to grab some food, and of course some photos!
When it comes to motivation, support, and encouragement, I wouldn't be nowhere without my team.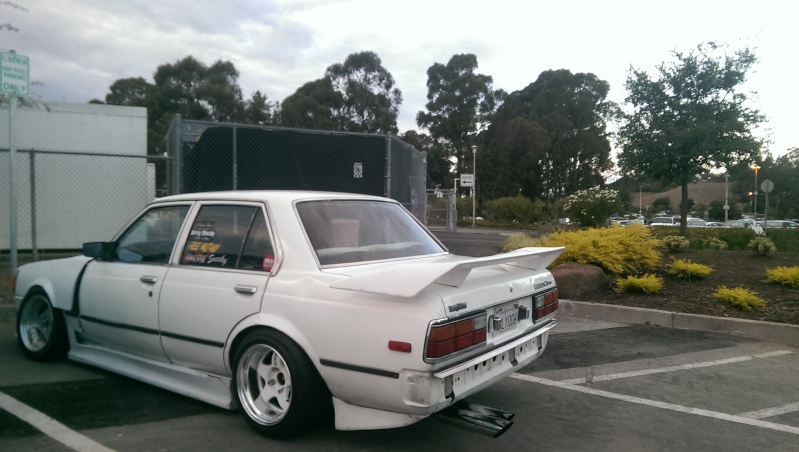 Got pair of Meister 15x9j -15 from Jonathan Sanchez, don't normally drive it much to school/work lately but was itching to drive it with new setup!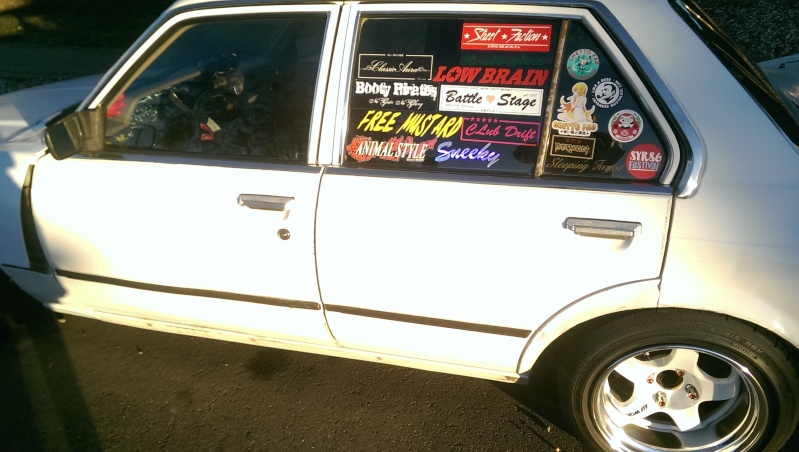 Sticker additions for +gaypoints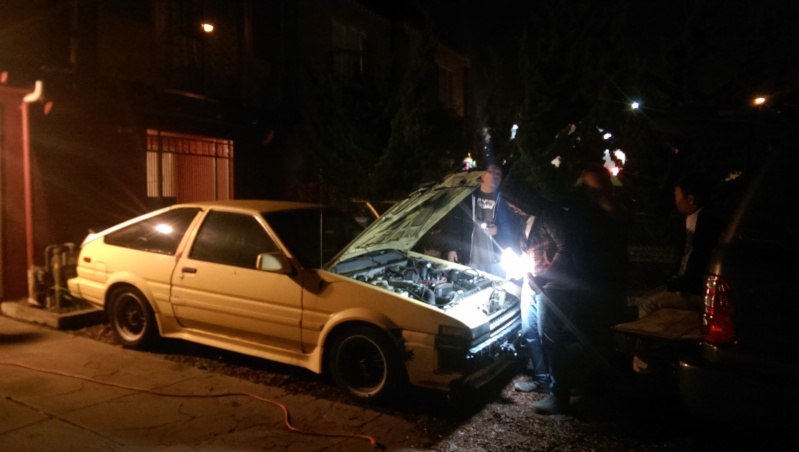 jr finally got a gt-s hatch to drive daily!

travisroush




Posts

: 73


Join date

: 2015-11-16


Location

: east bay



ayeeee that corolla tho! lil mobby! the mobbster! the rotten banana

jrdori




Posts

: 24


Join date

: 2015-11-16



You guys are so coooool!!!

BAKUZAyarou




Posts

: 49


Join date

: 2015-11-17


Location

: Da Une




Dnsportz




Posts

: 17


Join date

: 2015-11-22



---
Permissions in this forum:
You
cannot
reply to topics in this forum